&nbsp

THE Show Newport Beach 2016 • Memory and Meaning
View Original Article at theaudiobeat.com
by Dennis Davis | June 17, 2016

It's always fun and sun in Southern California at THE Show Newport Beach, which actually takes place in somewhat nearby Irvine, California. Irvine is home to Orange County's John Wayne International Airport, but it's also a good 20-minute drive from the ocean. Thus, showgoers are less easily tempted to slip away to the beach when their feet wear down from walking the halls. While this kept attendees' noses to the grindstone, the mood of the show was also imbued with a sense of sobriety, arising from two deaths. The passing a few months ago of show impresario Richard Beers was honored at the show's opening, and then the evening of the first public day, the passing of Muhammad Ali was announced over sports-bar TVs as I ate dinner — one of those defining moments that burn their time and place into your memory. For me, THE Show Newport Beach 2016 will be remembered as the day we lost one of our heroes.
The other thing that was on everyone's mind (and lips) was the question of where the Newport Beach show fits into the scheme of things. It's a relative newcomer on an increasingly crowded schedule of regional shows in the US, so the press and industry insiders wondered how the show would weather the blow of Richard Beers' passing, how it stacked up to the Rocky Mountain Audio Fest in Denver, and the impact of operating in the shadow of High End in Munich.
It was obvious that the new show organizers had picked up the ball and planned the event with aplomb. It is almost certain that Richard Beers' death placed the show at risk, and that many sleepless hours were spent working out the problems inherent to such a crisis, but the transition was transparent to the general public. Exhibitor rooms were filled with quality products, and attendance seemed good, with stronger traffic than at other US shows. There were some hiccups along the way, particularly on press day, when a large proportion of exhibitors kept their doors closed because they either elected not to open or were struggling with technical issues.
The big story was the dominance of Wilson Audio speakers in top exhibition rooms. No doubt, this mostly reflects the fact of Wilson's strong dealer network in Southern California. Dave Wilson started out in Northern California before he moved his budding company to Provo, Utah, so his roots are deep in the sun and surf. Wilson speakers make a strong showing at any North American show, and are a presence at worldwide shows, but there were probably as many Wilson-based rooms in the comparably small Newport Beach show as in the massive Munich show.
Contrast that to Magico, another West Coast speaker manufacturer, which was essentially missing in action. By my count, there were six times as many rooms with reel-to-reel tape decks as there were rooms with Magico speakers. Magico speakers were used by Synergistic Research in its auditorium-sized room, but the focus there was demonstrating Synergistic's room-treatment protocol, and the speakers' main function was essentially reduced, drawing people into the room-treatment seminar by being featured on huge banners outside the door. With Hollywood flair, the room had a velvet-roped red-carpet entrance, but the lack of people in line suggested that this vanity did not work.
Not so with any of the Wilson-based rooms, which never suffered from lack of visitors. In room after room, Wilson speakers combined speed, agility and power. Like Ali, they have long a tradition of both detractors and admirers, and also like The Greatest, they have never been shy about proclaiming their virtues. This year's series of punches had the detractors on their heels.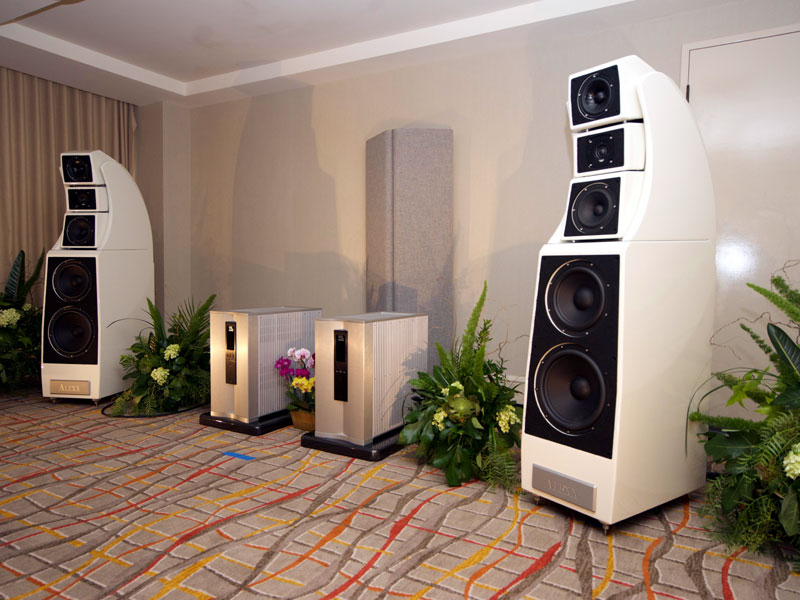 The biggest draw was the new Wilson Alexx speaker ($109,000/pair), which Wilson had shown at the recent AXPONA and High End shows. They were paired with VTL Siegfried Series II monoblock amplifiers ($65,000), a VTL TP-6.5 Signature phono stage with MC step-up ($12,000), a VTL TL-7.5 Series III Reference preamplifier ($25,000), dCS Vivaldi 2.0 transport ($41,999) and DAC ($35,999), Grand Prix Audio 2.0 turntable ($37,500) with Tri-Planar Mk VII U2 SE tonearm ($7500), and Lyra Etna cartridge ($6995), supported by two Grand Prix Silverstone isolation stands ($28,995 each) and two Formula Platforms ($3795 each) and a treasure chest worth of Transparent Audio cables. In other words, this was a system that most folks could only dream of actually owning, but exactly the kind of system that they want to experience when they come to one of these shows.
If there is something like an anchor tenant for a hi-fi show, this system is about as close as you can hope for. Some come to hear these super systems fall on their face and others come to experience a world of audio they wish for at home. But they come, and this system did not disappoint. Whether it was Peter McGrath's handpicked digital classical gems or Bea Lam's classical voice and piano LPs, this system's ensemble of equipment did it all. I picked the Sonny Clark Memorial Quartet's (John Zorn, really) Voodoo [Black Saint BSR 0109] from VTL's LP collection to round out my enjoyment during several trips to the room over the weekend. Great music on a great system defined a great show experience.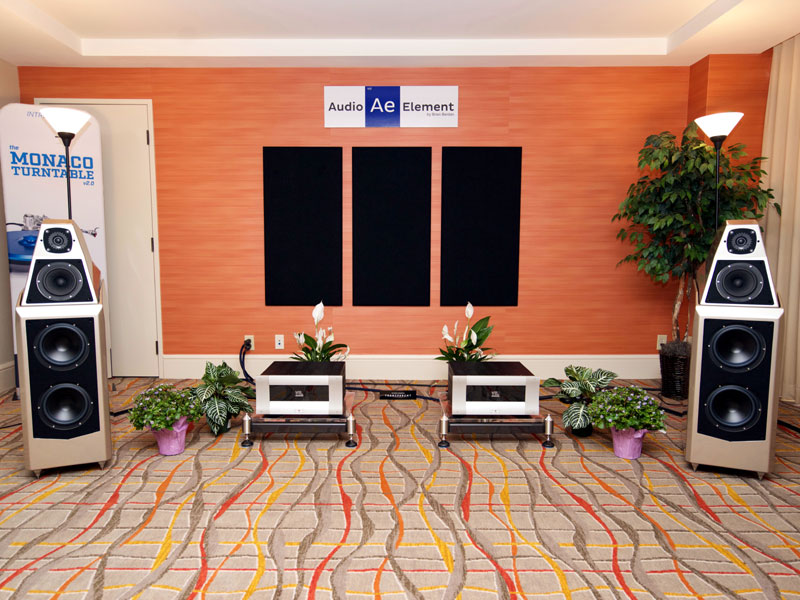 Next-door was a scaled-down version of the same system being presented by Los Angeles dealer Brian Berdan of Audio Element. Wilson Audio Sasha Series 2 speakers ($33,950/pair) were used with VTL MB-450 III monoblocks ($20,000/pair), a VTL TL-6.5 Series II Signature preamplifier ($15,000) and VTL TP-6.5 phono stage ($9500). The Grand Prix Audio Monaco 2.0 turntable ($37,500) carried a Tri-Planar Mk VII SE tonearm ($7500) with a Benz LP S cartridge ($6000). Digital was supplied by a dCS Rossini DAC ($27,499) and clock ($7500). Wired together with $70,000 worth of Transparent Audio Generation S XL cable, the components were supported by a Grand Prix Audio Le Mans four-shelf stand ($7995) and a pair of Grand Prix Audio Monaco amp stands ($7990 each).
Despite the scaled-back nature of the system and the close proximity to its bigger sibling, this was no "mini-me," and I returned several times to hear Muddy Waters sing about his home in the Delta. What it did share with its neighbor was meticulous setup and attention to detail. The Audio Element system was set up by store owner Brian Berdan. Decades ago, any competent dealer was expected to wield such skills, but the art of system setup had until recently received scant attention. It's difficult to think of a more important development in our hobby, and it was on display in the Audio Element room.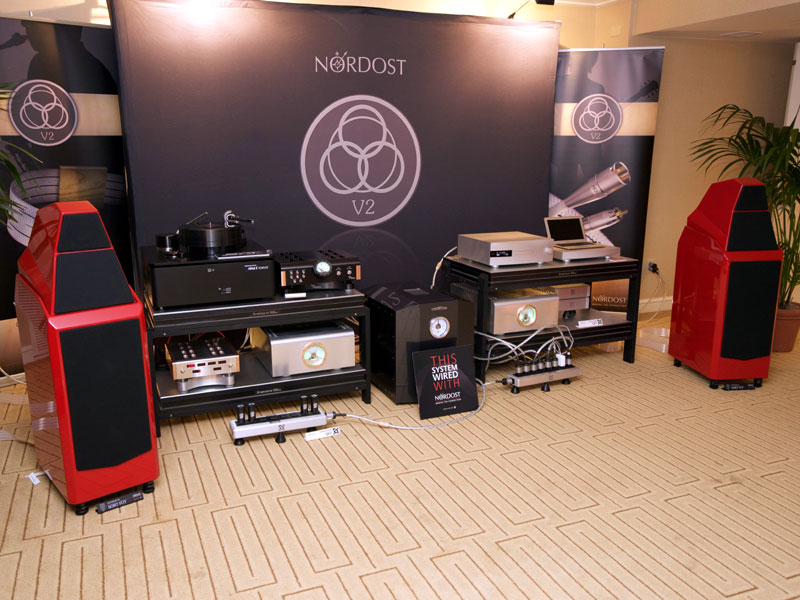 While not the only other Wilson-based system at the show, the Audio Salon's system, in addition to having brilliant sound, featured perhaps the most beautiful-looking setup in town. The red Wilson Sasha Series 2 speakers ($33,950/pair) framed by Nordost's black background screen with subtle red features screamed, "I am the greatest." As if to accentuate the beauty of the speakers, the power was supplied by D'Agostino's gorgeous line of electronics — Progression mono amplifiers ($36,000/pair) and Momentum preamplifier ($35,000). Analog playback was taken over the moon with a Brinkmann Balance turntable ($22,000) fitted with an SAT tonearm ($28,000) and a Lyra Atlas cartridge ($12,000). Lyra's Jonathan Carr and Stig Bjorge joined me in drooling over the front-end, which sat on a Minus K isolation base ($4000), one of those medical-industry innovations that audio can incorporate without its own R&D cost. That in turn sat on one of two Symposium Ultra racks (no price available). Dead center in the system was a Meletsky StroMTank independent power system ($30,000). This giant German power source looked all the world like it was part of the D'Agostino product line. The cabling was all Nordost Valhalla 2 — power cords ($6000), interconnects ($7600/meter pair) speaker cables ($11,850/pair), digital cable ($3300/each), and a couple QK1s ($250 each) and QV2s ($350 each).
Wilson speakers have come a long way from the days of the WATT/Puppy. The Sasha 2s have overachieved at Munich and now in Newport Beach. The combination of components seemed a match made in heaven for both the eye and the ear.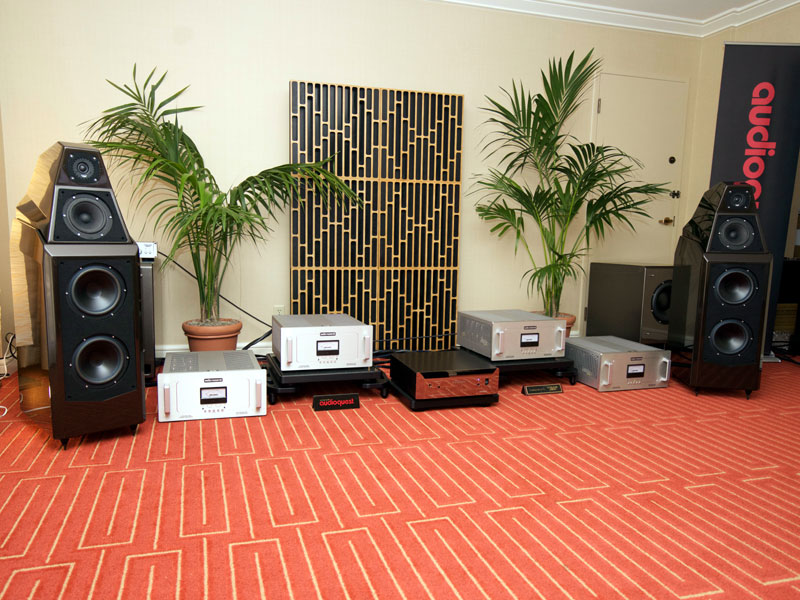 The Sasha 2s were also singing in one of the Sunny Components rooms, where they were backed by Wilson WATCH Dog Subwoofers ($10,000 each) and a Wilson Audio controller ($3500). The Sasha 2s and WATCH Dogs each had their own pair of Audio Research Reference 250 SE mono amplifiers ($34,000/pair). Audio Research's recent Reference 6 preamplifier and Reference Phono 3 phono stage ($14,000 each) brought up the middle, while a Bergmann turntable covered the analog and a Meridian Ultra DAC ($23,000) supplied a digital front-end. Housed in an HRS SXR rack with M3X shelves ($25,600), the front-end components received some of the best isolation at the show. The rack also held AudioQuest's Niagara 7000 power conditioner ($7995), and the whole system was wired with AudioQuest WEL Signature cables.
A constant stream of air conditioning (to compensate for the heat generated by those four large mono amplifiers), along with lots of talk, made listening a bit challenging, but the system seemed well integrated and produced excellent sound.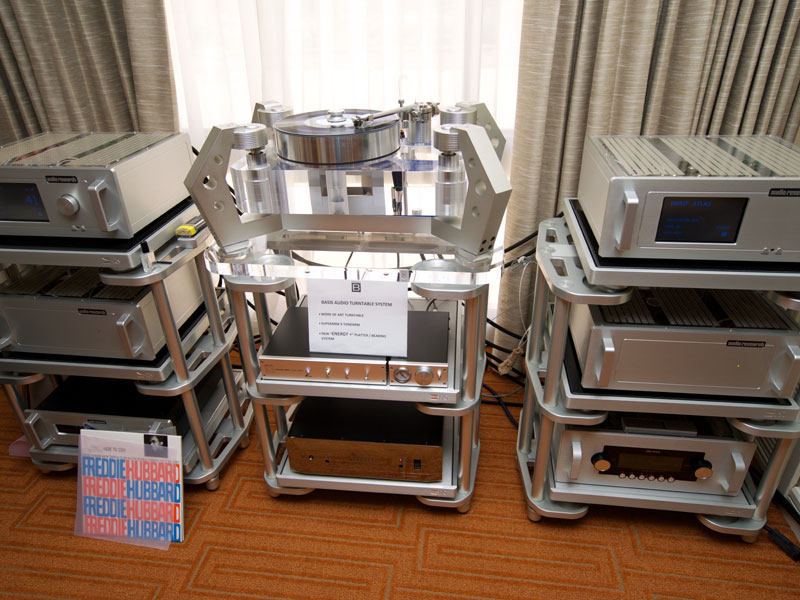 The exhibitors seemed to meet more than their share of challenges this year, stemming from equipment failures, missed deliveries and other gremlins, but none handled it better than Optimal Enchantment. Press day was spent chasing down a problem that turned out to be an amplifier that had sustained damage. Day one of the show ended with the discovery of a faulty speaker cable. Once that was remedied, however, the system sang with the best. Vandersteen Model Seven Mk II speakers ($62,000/pair) were backed up with new Vandersteen Sub Nine subwoofers (estimated at $20,000/pair). Power was supplied by Vandersteen M7-HPA mono amplifiers ($52,000/pair). An Audio Research Reference 10 Phono and Reference 10 preamplifier ($30,000 each) and a Reference CD9 player/transport/DAC ($13,000) rounded out the electronics. AudioQuest WEL Signature interconnects, speaker cables and power cords were used throughout, with power conditioning supplied by AudioQuest Niagara 7000 ($7995) and 5000 ($3995). A Lyra Atlas cartridge ($12,000) was installed in perhaps the most over-the-top individual component at the show: the Basis Work of Art turntable with optional Energy Plus bearing and platter, costing (drum roll, please) $200,000. Really? It's LA, Dude, and it must be exhausting to be a nihilist. Elsewhere, we get by on $50,000 turntables.
The pointlessness of existence and Malibu beach houses (where the Work of Art might fit in) aside, once the bugs were chased down, this system sounded as good as the sum of its parts. Stanley Turrentine with the Three Sounds' Blue Hour, on Music Matters LP, sounded exquisite, and the shortcomings of the Classic Records reissue of Louis Armstrong's "St. James Infirmary" were laid bare. It was worth the wait for the repairs to be made, and the resulting sound was among the show's best.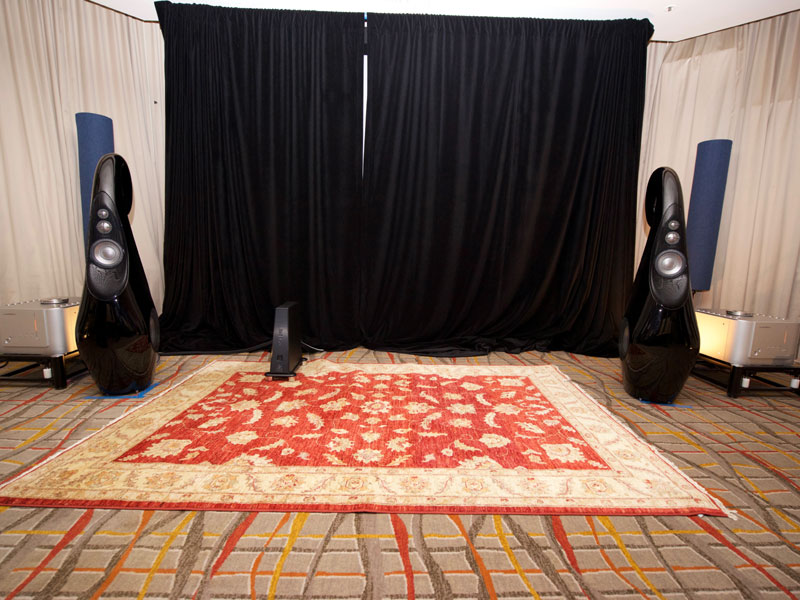 Reel-to-reel tape playback was popular in several rooms (six by my informal count), in none with more impact than the room shared by On A Higher Note, Joseph Cali Systems and Shunyata Research. On a Higher Note's Philip O'Hanlon was spotted in Munich filling his shopping bag with new tapes from various vendors, and he was eager to share his newly stoked passion — so eager that he lugged along both an Otari 1/2″ reel-to-reel as well as a SonoruS 1/4″ deck. The room was set up for surround and video and featured Vivid Giya G2 speakers ($50,000/pair) up front and Giya G3s in the back ($40,000/pair). Philip was running a Luxman PD-171AL turntable ($6500) with an SME M2-9R tonearm ($1900) and a SoundSmith Hyperion cartridge ($8500). Electronics were all Luxman, including an EQ-500 phono stage ($7500), C-700u preamp ($10,000), B-1000f monoblocks ($30,000 each), M-700u stereo amps for the surround channels ($10,000 each), a D-08 CD/SACD player ($16,000), and the Merging Technology NADAC running Roon ($11,500) and Merging music server (price to be determined). Shunyata Research provided the cabling and Artesania's Exoteryc rack ($5990) and Aire amp stand ($3700) reduced bad vibes.
I spent some considerable time listening to various tapes, many of which Philip had not had time to previously hear himself, and where the music met my tastes, the sound was simply stunning. While digital music and LPs were exceptional through the Giyas, the best of the reel-to-reel tape selection was truly a step above. In addition, actor and co-founder of Cello Music & Film Systems Joseph Cali's video demonstration was equally stunning. And how often do you get to hang out with Joey from Saturday Night Fever (one of Cali's roles)?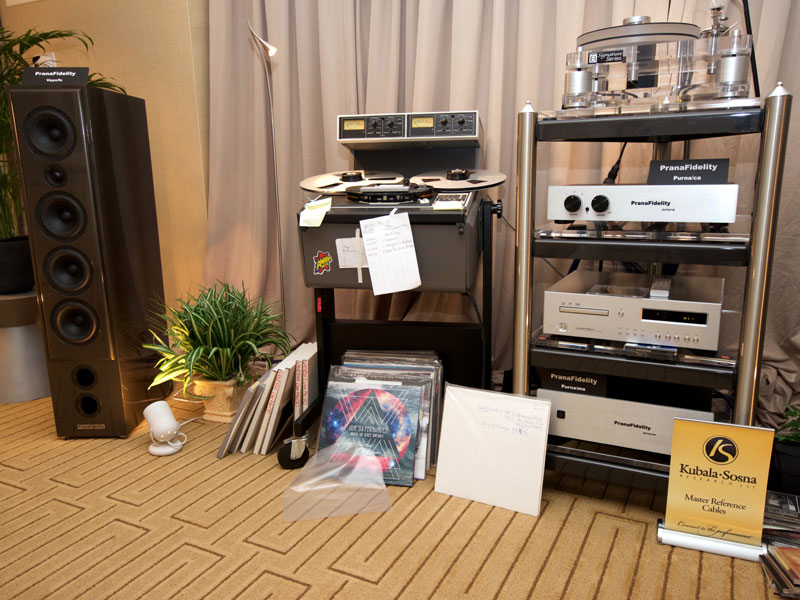 Another entry in the tape sweepstakes, this time also with a professional machine, was found in the PranaFidelity room, where a master tape of the recent Groove Note three-LP set of Vanessa Fernandez's When The Levee Breaks was played. This 45rpm LP set is one of the best-sounding rock or pop albums I've acquired in many years, so it was a special treat to hear these tapes. Although a much-too-small room marred the sound, the tape's superiority was obvious through the PranaFidelity Vayuj/fs speakers ($6950/pair), Purna amplifier ($8950) and Purna preamp ($4500 to $9950 depending on options). The tapes were spooled up on an Ampex ATR-102 reconditioned and modified by Bernie Grundman Mastering, and everything was connected using Kubala-Sosna cabling.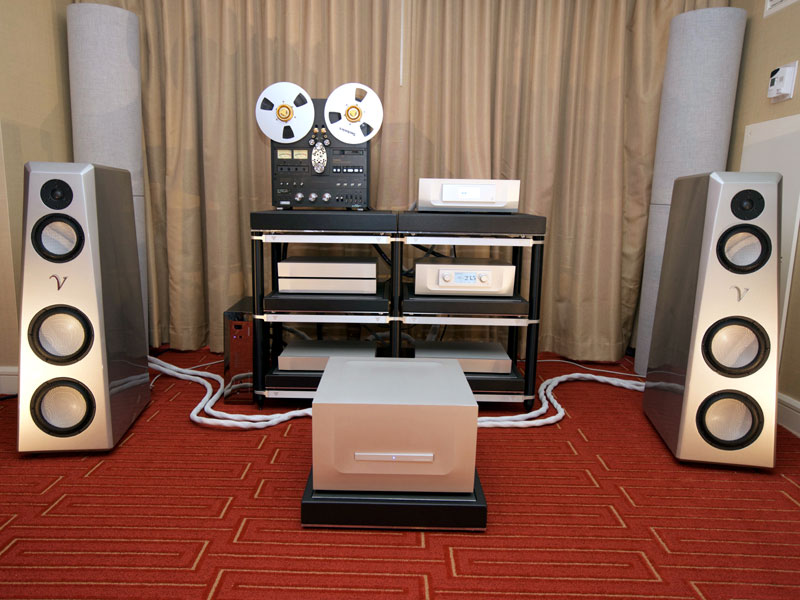 Finally, one room incorporated a tape player as the only non-streaming source in the room. The Constellation Audio room featured Von Schweikert VR-55 speakers ($60,000/pair) originally driven by a single source — the Constellation Cygnus media player/DAC ($38,000) with a DC-filter option ($6000), Virgo III preamplifier ($32,000) with the DC-filter option ($6000) and a Centaur II stereo amplifier ($4000). Critical Mass Systems racks (about $23,000) were employed with an AudioQuest Niagara 7000 power conditioner ($7995). The system sounded quite nice playing streamed music, but that was not the end of the story. The Von Schweikert crew also brought along a Technics 1520 reel-to-reel player rebuilt by J-Corder (starting at $7495 depending on options), which was almost a jarring retro look against all that twenty-first-century digital gear, and when taped music kicked in, it was clear to me that digital music still has a way to go to catch up with last-century's technology.
One of my favorite Muhammad Ali quotes is, "He who is not courageous enough to take risks will accomplish nothing in life." Apropos of that observation, I want to mention three special rooms that took a little different path in audio life.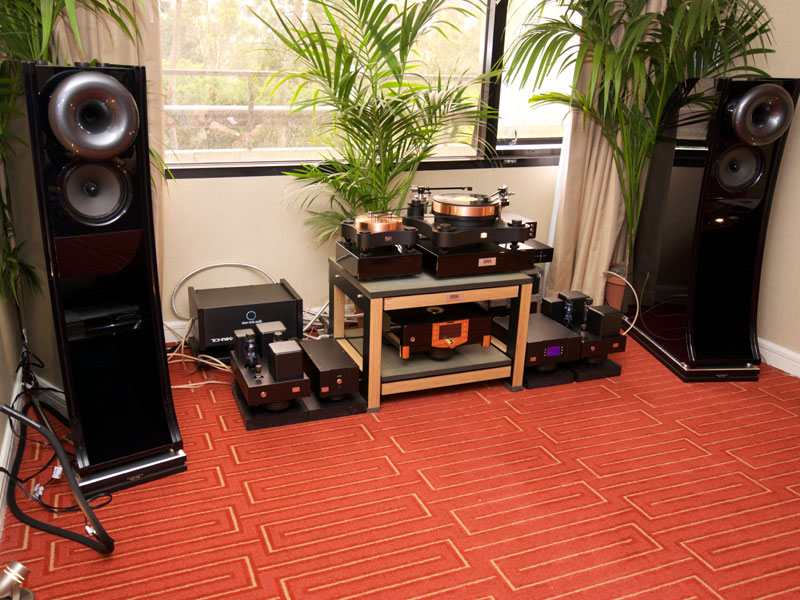 Jeffrey Catalano of High Water Sound always creates an analog oasis. The gear looks different, and in a very good way. It's audio jewelry, but jewelry that does not elevate form over function. The turntable is a case in point: a TW-Acustic Black Night ($40,000) with two TW 10.5 tonearms ($5500 each), one running a Miyajima Labs Madake stereo cartridge ($6000) and the other a Miyajima Labs Zero mono cartridge ($2000). This rig had one industry insider exclaiming his belt-drive envy. Electronics were all TW-Acustic, including the RPS 100 phono stage ($17,000), RPA 100 line stage ($17,000), and 300 B monoblocks ($18,000/pair). Cessaro Wagner speakers ($65,000/pair) flanked the electronics and a Silver Circle Audio TCHAIK 6 power conditioner ($11,500) sat between the Zen Sati power cords. A gorgeous Silent Running Audio Scuttle rack and Ohio XL bases isolated the electronics and Zen Sati interconnects were also in use. Symposium Super Plus platforms did the same for the speakers. A beautiful-looking system that sounded even better than it looked.
Jeff Catalano brings along the best and most-sizable record collection (to my tastes) of any exhibitor, and I spent one long session just grooving on Jeff's records, and a second session listening to more modern picks selected by Def Jam founder Rick Rubin and his entourage.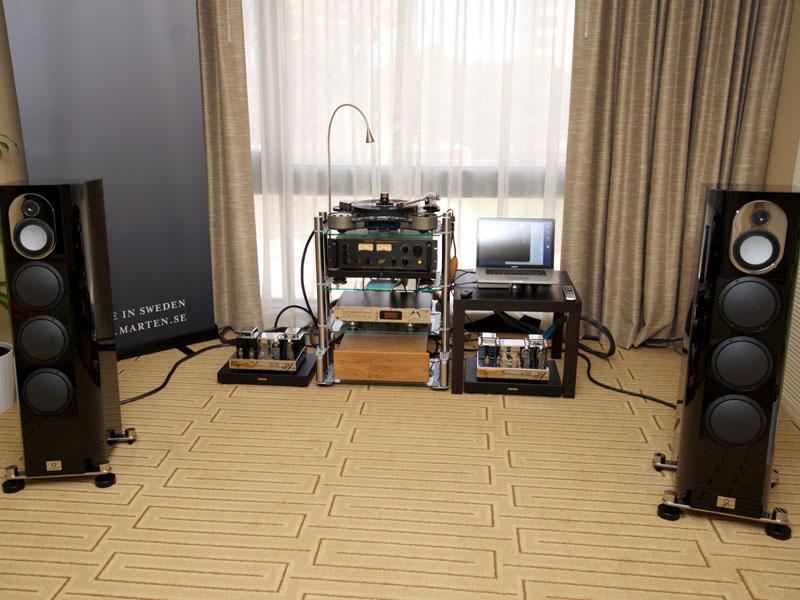 Dan Meinwald, distributor of EAR products in the US, provided a similar oasis from the sometimes-crowded halls. He was running the same pair of Marten Mingus Quintet speakers ($50,000/pair) I heard in Munich, powered by EAR 509 mono amplifiers ($15,700/pair) and an EAR 912 preamplifier ($13,000). The sleek-looking Helius Viridia turntable ($6500) made its world premier with a Helius Omega Silver Ruby 10″ tonearm ($5225) and Kiseki Purpleheart cartridge ($3300). The EAR Acute Classic CD player ($6800) spun digital discs. An assortment of Jorma Designs interconnects, speaker cables and power cords connected the bits, which sat on a Townshend Audio Seismic Stand ($3200), while the speakers were supported by Townshend Audio Seismic Isolation Podiums ($3800). The Entreq Silver Tellus grounding box was employed ($2700). The World Power Power Wing power strip ($2850) gathered the power cords. The beautiful system sounded excellent on an array of great jazz LPs, and as always it was impossible to surpass the company and conversation.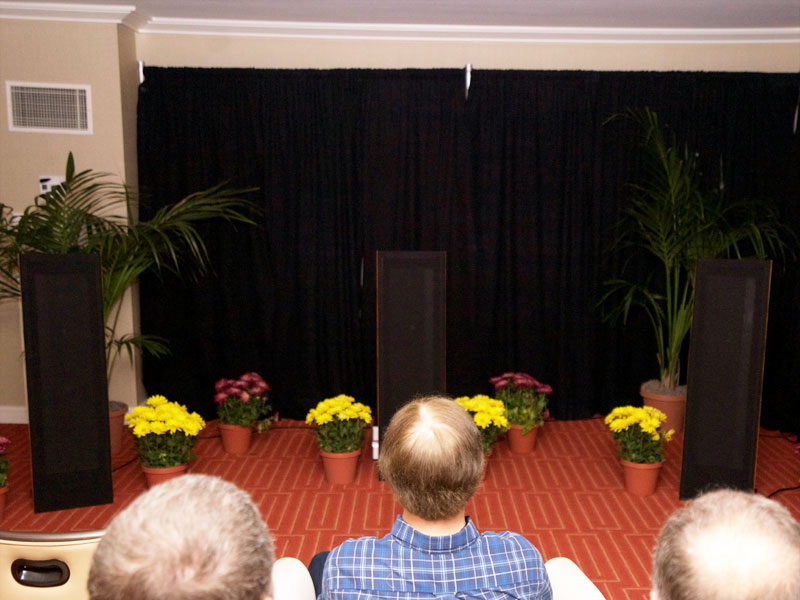 Finally, one of the highlights of the show was a demonstration of just how much can be accomplished with very little, a specialty of Magnepan. The three-channel system was based on three Magnepan MMG speakers ($600 a pair, so $900 for the lot) and Magnepan's version of a Bryston processor ($9800), which can be used with whatever amplification and cabling system you want. It didn't do what the big boys did, but for sheer fun on a budget, this system provided as much magic as anything you could ask for.
Will Wilson Audio continue its dominance? Are reel-to-reel tapes poised to appear in every audiophile's listening room? Are three-channel and surround sound making a comeback in audio land? My guess is yes, no and maybe. What is clear is that THE Show Newport Beach continues to make a strong statement amid a crowded schedule of shows; now, if the organizers would only push back the schedule a bit to allow a breather after High End in Munich. I'm not ready to take up surfing, but I won't pass up my once-a-year sojourn to Orange County for some audio envy.