Description
Designed to innovate, Engineered to perform
G2.1 is the next logical evolutionary step, resulting from a desire to improve upon the original G2 series. At AURALiC, they always work to create a new approach to digital music that pushes the boundaries of sonic quality. Incorporating state-of-the-art technologies and delivered with innovative features, G2.1 is built for ultimate levels of sonic performance.
Every G2.1 series component, including the ARIES G2.1, sports an all-new industrial design that's engineered to set a new standard for sound quality, enhance the user experience, and look every bit as good as it sounds with its contemporary aesthetic. Offering features like a copper enclosure, a high-mass base, and an enhanced suspension system optimizes the sound of the ARIES G2.1 and ensures it is the most capable and feature-rich way to introduce streaming to your audio system that they've ever created.
Unity Chassis II
The ARIES G2.1 chassis has been designed as a double enclosure, where an outer case made from high-grade aluminum is supplemented with an inner layer of copper. A high-mass base and enhanced four-foot multi-spring suspension system complete the quiet, noise defeating performance of the ARIES G2.1's Unity Chassis II.
Perfectly Balanced
ARIES G2.1 internal circuits are physically distributed to enhance overall balance. And with specially designed foot spikes that dampen and absorb vibrations, the ARIES G2.1 is always rock-steady, for ultra-smooth signal delivery.
Tesla G2: Platform Made for Sound
In 2014 they developed the original Tesla hardware platform with the goal of creating a high-performance, upgradable platform optimized for audio sound quality. Working hand-in-hand with their control interface and innovative software features, it was the most powerful processing platform available for digital music playback and streaming.
Now there's Tesla G2. 50% faster, with twice the processing resources, Tesla G2 is the hardware powerhouse behind the sonic excellence of the G2 line.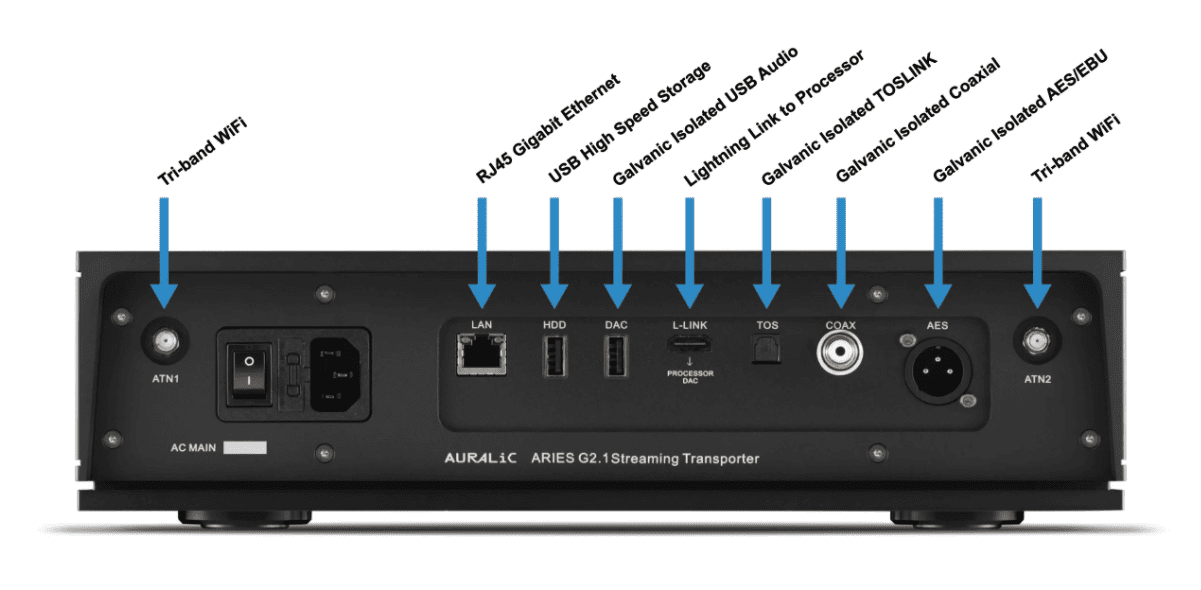 Still have some love for your old CDs? Not to worry; you can plug a generic USB CD drive into your ARIES G2.1 then choose to play a CD, rip a CD while playing, or just rip.
As with AURALiC's Lightning file streaming, their unique CD playback feature uses the same advanced, jitter-reducing Memory Playback technology. CD data is first read, and compared several times for accuracy into the system cache before playing. The result is elimination of potentially induced jitter from the transport, canceling any negative effects from the quality of your chosen CD drive, potentially improving performance beyond what's offered from competitors' CD players.
PCM: 44.1KHz to 384KHz in 32Bit**
DSD: DSD64(2.8224MHz), DSD128(5.6448MHz), DSD256(11.2896MHz), DSD512(22.57892MHz)***
AURALiC Lightning DS for iOS
AURALiC Lightning DS for web browser (device settings only)
OpenHome compatible control software (BubbleUPnP, Kazoo)
Roon (Roon Core required separately)
Network shared folder, USB Storage, USB CD Drive, Internal Music Storage****, UPnP/DLNA Media Server, native TIDAL, HighResAudio and Qobuz Sublime+, Internet Radio, AirPlay, Bluetooth, Songcast, RoonReady
AURALiC Lightning Link
Digital Outputs: AES/EBU, Coaxial, Toslink
USB Output: USB Host to compatible DAC *****
Wired: Gigabit Ethernet
Wireless: 802.11b/g/n/ac Tri-Band WiFi
Sleep: <10W
Playback: 50W at max.
13.4 x 12.6 x 3.7 in. (34cm x 32cm x 9.6cm)
Anodized aluminum case in matte black with copper EMI shielding enclosure.
AURALiC ARIES G2.1 Wireless Streaming Transporter
2*External WiFi antenna (2pcs)
Power cord
User's guide
Before you buy
Please read Auralic's recommendations before you purchase this unit here