Posted by Jonathan Valin for The Absolute Sound | January 11, 2017

The following is an excerpt from Jonathan Valin's January 2017 theabsolutesound.com article, "CES 2017 Loudspeakers $20k and Up," showcasing a Wilson setup by Audio Element's own Brian Berdan.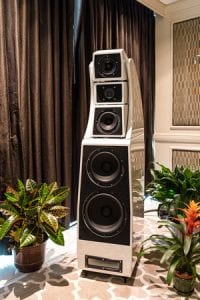 We come now to the end of the line at the Venetian, but not to the end of the show. Across Las Vegas Blvd. at the Mirage, Wilson Audio was showing its giant, five-driver, four-way Alexx with articulating cabinet, driven by D'Agostino electronics and sourced by dCS digital. This was, quite simply, the best I've heard the Alexx sound—and on a Johnny Cash cut the most realistic vocal I heard at the show. The system was no less impressive on instrumentals, making it a clear Best of Show contender.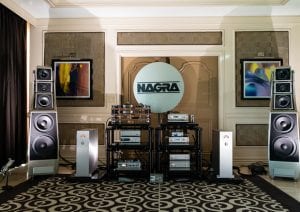 Down the hall in the Nagra suite, the Wilson Audio Alexx was being shown with, uh, Nagra electronics, and it was merely the second-best I've heard this speaker sound—and not second by much. The system was simply phenomenal on Rene Laflamme's reel-to-reel tape of guitar and stand-up bass with tremendous density of tone color and superb transient response. Digital was also exceptional in this room, making it another Best of Show contender.
Best of Show (price no object)
Well, that depends on the music and the instrument(s). For solo voice, the Wilson Audio Alexx with D'Agostino electronics and dCS digital. For piano, the Magico M3 with Constellation electronics and source  For guitar, the Wilson Audio Alexx again with Nagra electronics and tape player. For saxophone, the Kharma Exquisite Midi Grand with Lamm electronics and EMT/SME/Ortofon. For exceptionally realistic imaging, the Rockport Atria II with Nagra electronics and AMG/DS Audio DS 002 source. For overall soundstaging and three-dimensionality, the MBL 101 E MkII with MBL electronics. For musicality and easy listening, the YG Acoustics Hailey with Nagra electronics and Brinkmann turntable/cartridge. Take your pick. There isn't a loser in the bunch.
Best of Show (for the money)
Sandy Gross' GoldenEar Triton Reference. A whole lot of loudspeaker for $8500.
Best Introduction
Four-Way Tie: YG Acoustics Sonja XV, ELAC Concentro, Rockport Atria II, and Wilson Benesch A.C.T. One Evolution Pi.
Most Important Trend
Analog sources everywhere.
Most Coveted Product
Magico M3.